Sail tuning is one of the skills that gets overlooked during the learning process of windsurfing. Most people can kind of rig the sail correctly but are either unsure, or just plain don't know how to tune a windsurf sail. A badly tuned windsurf sail can make the experience of windsurfing unpleasant. There are only a few parameters you really have to look out for, depending on the sail. This guide should help for most windsurfing sail types although it will vary (or be missing aspects) for sails that have cambers for example.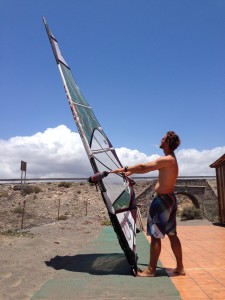 When I rig my sails there are basically three things I look out for.
How to Tune a Windsurf Sail Correctly
Before I start, a quick disclaimer. Each sail type and brand will have different properties and their performance will vary greatly from one sail to another. This guide should be used to start you off but ultimately it is up to each sailor to test out variations to this starting point to see what works best for them. You can also check out the manufacturers websites to see what they recommend for their sails.
Sail Outhaul
With the sail on the ground I push down on the sail with both hands. The sail foil should be just touching the boom on the other side. If it touches too easily I tense the outhaul more, if it doesn't reach the boom I release some outhaul.
This also depends on the wind. If the wind is light you can release the outhaul a little to make the sail curve more round. If the wind is stronger or you feel overpowered you can tense the outhaul more to make the curve flatter so the sail doesn't pull as much.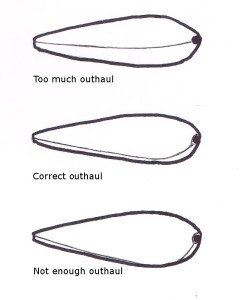 Too much outhaul
If we pull too much on the outhaul, the sail will be very flat, which means that it will lose the profile. This means that all the advantages of having a wing shape are lost and all you are left with is a wall for a sail.